Sports Medicine Doctor & Physician in San Diego
Dr. Myers practices primary care sports medicine. She offers non-surgical care for common sports or joint injuries. There is an x-ray machine in her office and Dr. Myers is capable of interpreting the x-rays at the same time as your office visit. She can handle most injuries including back pain, knee or ankle sprains, or shoulder pain.
In her office Dr. Myers offers a variety of treatments for joint and back pain. She regularly performed ultrasound guided injections. She also incorporates Osteopathic Manipulative Treatment into the care of her patients.
What is an osteopathic sports medicine doctor or physician?
An osteopathic sports medicine doctor is a doctor specially trained to take care of all athletes. The background in osteopathic medicine helps to look at the athlete as a whole person, including body, mind, and spirit.
How does doctor Myers approach overall treatment and health of athletes?
Dr. Myers looks at all of the athlete's aspects of life when treating them. How does this injury or illness affect the athlete's training regimen? Does it affect their work? We always ask when their next competition or travel is, and what they expect to be doing. Every athlete is unique, and needs an individualized treatment plan.
What does treatment of injuries entail?
Treatment of injuries may entail a variety of modalities including physical therapy, OMT, acupuncture, medication, etc. Each injury and each athlete need a special mix of treatments to heal.
How do you approach care for different sports and activities?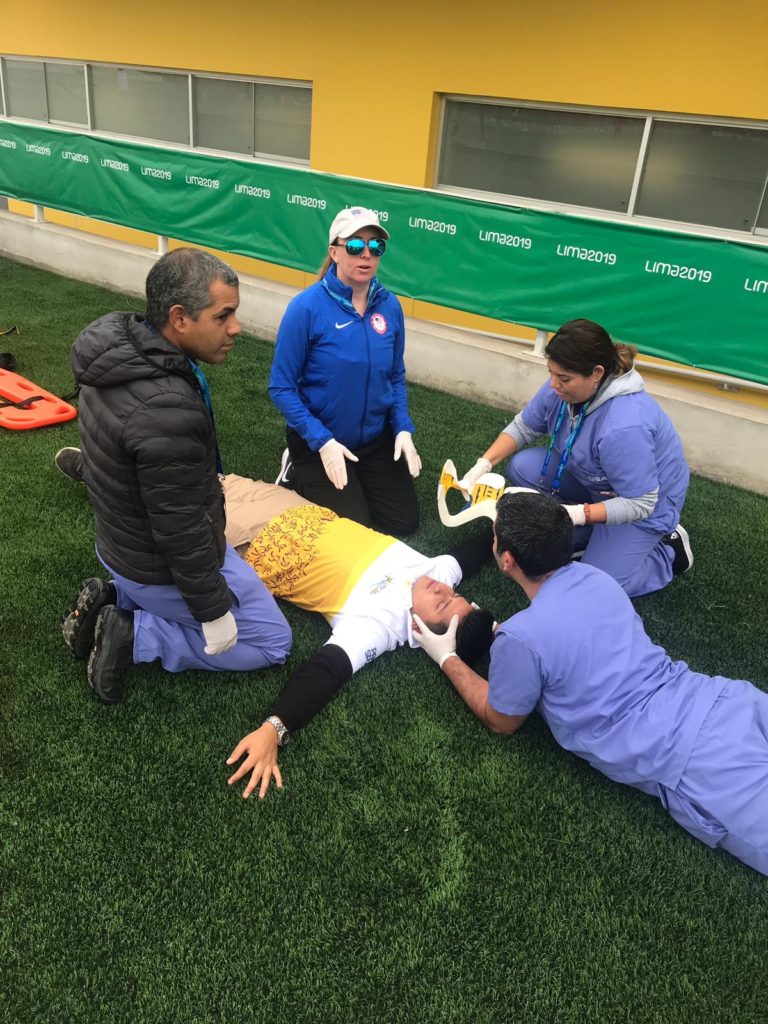 Each sport is different. For example, if a water polo athlete has a shoulder injury, they can't wear the same type of bracing that a rugby athlete can. They need something they can wear in the water, and that is allowed by the sport officials. On the other hand, if a swimmer has a broken foot they may be able to compete since they don't have to push off of a hard surface. Each time there is a new injury we look at what the specific activities are within the athlete's sport, and we make a new treatment plan.
When should I see a sports medicine doctor?
You should see a sports medicine doctor when you have an injury that is not healing. If you twist your knee but it feels better in a day you likely don't need to see a doctor. However, if you twist your knee and it swells up or is too painful to walk on, then you should see a doctor. If you are not sure if you need a sports medicine doctor, you can always call us at San Diego Sports Medicine at 858-793-7860.
What teams has Dr Myers worked with?
Dr. Myers works with many teams including USA Rugby Seven's Women's and Men's, Major League Rugby San Diego Legion, SDSU Women's Basketball, Water Polo, Swim and Dive, and Rowing, San Diego Christian College, Cuyamaca and San Diego City Colleges, and Santa Fe Christian High School. She also does consulting work with the University of San Diego.
How can I schedule a sports medicine doctor visit near me?
If you are located in the San Diego area, you can easily schedule by using the contact form on this site, or by calling 858-793-7860.